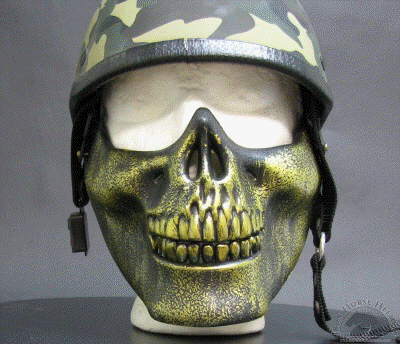 This is a new concept we are trying. This is a hard rubber biker mask. Why are we selling this? I don't know. Why not?

If you haven't smelled Baghdad in the heat of summer then consider yourself lucky, my friend.

Upon moving(shipping) back to Baghdad, a good friend of Iron Horse Helmets once said, "I forgot just how much this city smells like hot garbage. Which is a lot. It smells like hot garbage a lot."

Now for those of you who have never been to Baghdad, imagine that smell, during the hottest part of summer, mingling with the aroma of over 7 million sweaty humans packed together like sardines. Big, gross, sweaty, stinking sardines.

And that, my friends, is why face masks like these were invented.

You think Samira Shahbandar could have landed Mr. Sadam if she reeked of rotting food and confrontation? No way. And have you seen her?

This mask is sure to make any Iraqi Women look a lot better.